Small and midsize business owners usually consider SEO as an unnecessary expense. It takes a lot of effort to optimize your site fully, and it takes a long time for SEO to have any effect. In addition, it is dying anyway, so why invest?
But, this could not be further from the truth. SEO is constantly growing in importance and now small and medium-sized businesses can take advantage of it.
In this article, we explain what SEO is, the benefits of SEO for companies, and how to develop a good SEO strategy.
What is SEO?
SEO, short for Search Engine Optimization, is the process of optimizing a website to be as visible as possible on search engines such as Google. The higher your website ranks in search results, the more visitors will come. And, the more traffic to your site, the higher the chances that customers will purchase from you.
How Does SEO Work?
Search engines like Google and Bing use bots to crawl pages on the web. The bots collect information about the pages, and they put them in an index. Then, algorithms analyze pages that are placed in the index. Hundreds of ranking factors are considered to determine which pages should appear in which order when a user searches for a certain query.
The search algorithms are designed to display relevant, authoritative pages first. Therefore, businesses that want their websites to appear in search results must optimize their website according to these factors.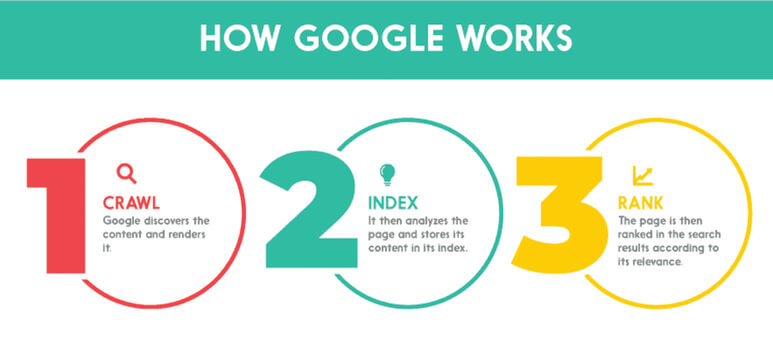 What Are the Most Important SEO Factors?
Before we get to the most important SEO factors, it is essential to know that these elements fall into two categories: on-page and off-page SEO.
On-page SEO refers to all the elements that improve the pages on your website and enhance your ranking in search results. In addition to content and keywords, this also includes page navigation, load speed, design, and URLs.
Off-page SEO refers to taking action off your website. This mostly includes link building and social media and business profiles.
Benefits of SEO for Small and Medium Businesses
Many businesses think that SEO is not affordable and that the results it provides are not worth the investment. Here are the most significant benefits of SEO that will make you think twice.
SEO Offers Long Term Gains
Small and medium businesses can benefit significantly from SEO because of its long-term advantages. A good strategy takes time to pay off, but the benefits are huge. Subsequently, businesses that engage in SEO get a steady flow of new customers and sales without investing additional time and money.
SEO Is the Primary Source of Organic Website Traffic
Organic traffic refers to traffic that comes from search engines. Since this type of traffic is free, it should be prioritized.
According to a Salesforce study, 87 percent of shoppers start their search for new products and services on digital channels, with 9 out of 10 utilizing a search engine as their first stop.
Given this, appearing on the first page of a search engine's results is the most efficient approach to help new clients find your business.
Better On-Page Experience
SEO-optimized websites load faster, are easy to surf, and display properly on almost all devices. This means that SEO-optimized pages will provide a better user experience, which will translate into greater satisfaction and loyalty and an improved conversion rate.
Your Rankings Improve Too
A good ranking is the most important aspect of SEO. However, it is not enough to appear on any page in search engine results; companies aim to be at the top!
SEO directly impacts the search engine rankings of a website. Google ranks pages according to its algorithm's evaluation of authority, relevance, popularity among users, and speed. A good strategy has been proven to improve website rankings significantly.
Better Brand Awareness
SEO is one of the most potent online marketing strategies. Furthermore, SEO will provide a steady flow of traffic that your business can consistently rely on for years to come. All these factors combined will naturally enhance your brand awareness and visibility, which will lead to an increase in sales.
How to Implement SEO For Your Business
Although SEO can indeed be complex, it is much more effective than traditional marketing strategies. Here are a few tips that will help you develop an SEO strategy for your company.
Keywords and Content
First of all, you'll need to do keyword research and identify the most relevant keywords for your business. They should reflect what you offer. Then, develop a content strategy that will ensure every page on your website is filled with valuable information, engaging to read, and contains the keywords you selected.
Local SEO
Google prefers local content since it provides added value to users. Much of local SEO is based on keyword research and long-tail keywords. Identify phrases that describe what your business offers with a location included as a part of the keyword. Tools like Google Keyword Planner can help you investigate potential terms.
Also, ensure that your business is listed and optimized for local searches. Make sure to complete the local listing with accurate details, including a map.
Social media is an excellent way to create brand awareness, improve customer satisfaction, and attract potential clients. Create accounts on all social media platforms relevant to your industry and start engaging with your customers. Also, you can use your social media accounts to share your blogs and drive more traffic to your website.
Link Building
Link building is an excellent SEO method to improve website authority and rankings. The easiest way to earn backlinks is by guest blogging, sending pages to high-quality directories, and creating content others want to share.
How to Know if an SEO Strategy is Working?
One of the best aspects of SEO is that it can be measured. With the help of tools such as Google Analytics, it is easy to find out who is visiting your website, how they got there, and what they are doing with a service like Google Analytics.
The importance of search engine optimization has grown significantly in recent years, and it is now a critical aspect of the success of businesses seeking to maintain an online presence.
Not only can a strong SEO strategy boost your brand's performance and digital visibility, but it will also demonstrate to your customers that you are ready to meet their needs.
Follow our steps to build your SEO strategy. But, don't expect results overnight! Best practices need to be continuously monitored and updated to reap SEO benefits fully.